Juda hairstyle designs for weddings
Weddings in India are joyous affairs which require your presence for a considerable number of hours especially if you are a close friend or a relative. Juda hairstyle work best for weddings and here is a well curated list of beautiful Indian wedding juda hairstyles you can take inspiration from.
#1 Braided flower low juda hairstyles
A simple low juda bun with a braided crown looks absolutely stunning and pairs beautifully with Indian ethnic outfits. if you add some pink carnations and baby's breath to the mix it is a full on wedding ready hairstyle you an never go wrong with.Styling ideas: Pair green or yellow outfits with pink floral bun for a beautiful and unique colour contrast play.
Suitable pairing: Traditional lehengas or anarkali gownsOccasion: Wedding receptionSuitable hair type: Medium length
#2 Jasmine saas – Full gajra bun hairstyles
Jasmine flower hairstyles are hugely popular with Indian women especially in south Indian. This kind a large full gajra bun looks ethereal and so very traditional. You can try this kind of a hairstyle with a puff hair in the front for more glam appeal. This is a very dramatic type of hairstyle so make sure to opt for this style for really special occasions. You an try this style even for your own wedding if old world traditional charm is what you are aiming for.
Suitable pairing: Silk sareeOccasion: Festive occasions for a full on traditional lookSuitable hair length: any hair type and length
#3 Modern side-parted juda hairstyle with hair flicked out
This side bun hairstyle with a slight messy look and hair flicked out on both sides has a very modern appeal to it and works best for the younger brigade. You need to side part you hair and flick hair out and go for a side bun . Adding floral clips will make this kind of juda hairstyle more interesting. This kind of hairstyle works beautifully for wedding occasions like a reception, cocktail party or even sangeet ceremony.
Suitable pairing: Indo western gownsOccasion: Engagement ceremonySuitable hair type: thick medium to long hair
#4 Single string mogra bun hairstyles
A donut bun like this is classy and sophisticated which can be beautified with a single string mogra wrapped around in a polished way for a glam party look. This kind of perfect and neat juda hairstyle works well for party occasions with all kinds of sarees, designer sarees, chiffon sarees, pattu sarees or cotton sarees too. Suitable pairing: Sarees and half sareesOccasion: Best for wedding oasionsSuitable hair length: short to medium hair
#5 High bun updo with jasmine strings
For a fuss free sleek juda ideal for summer try knotting your bun a bit higher like in this juda hairstyle photo above. This one looks too contemporary glam so adding jasmine flowers and an Indian hair accessory like mang tika or jhoomar will help traditonalize it making it easier to team with sarees.Suitable pairing: Pattu sareesOccasion: festivalsSuitable hair length: All hair types

#6 Middle parted messy Indian juda hairstyles with roses
A glam juda like this middle parted one an be a statement in itself and it can tried with all hair types. Just middle part your hair flick some bits out from both sides and go for wispy low bun with matching roses in hair. Add a tikka to the middle parting and make sure to use hair spray to keep hair in place .
Suitable pairing: Best for lehengasOccasion: Reception nightSuitable hair length: Long hair
#7 Sophisticated crown braided bun hairstyle
If you have thick medium hair then this kind of a braided bun hairstyle is a good pick. Start from near the ear and braid hair at the crown giving a bit of volume for an elegant look. You can add some flowers or skip it too because your braided bun is fancy enough to strike a trend at any wedding or festive occasion.Suitable pairing: saree or lehengaOccasion: For a day wedding eventSuitable hair length: Medium length
Juda hairstyles with puff
Pouf helps add volume to hair and gives a very sophisticated output. If you are bored with the normal bun hairstles you can try a pouf hairstyle. Creating a perfect poof involves a lot of teasing and some practice but if you are getting your hair professionally done then you can surely give it a try.
#8 Crown braided and twisted juda hairstyle updo
In this hairstyle a braid is accompanied with a twisted hair resting low at the back and the pouf in the front. This is all glam hair idea especially suitable for sarees and lehengas . This is a little over the top hairstyle so it should be done for really important events like if you are a bride or if you are atteding a family wedding.Suitable pairing: Long frocksOccasion: SangeetSuitable hair length: Medium to long hair
#9 Side glam Pouf juda hairstyles for parties
This is the more modish version of the juda hairstyle perfectly suitable if you are wearing something western or Indowestern like an Ethnic gown or belted saree. With a bit of teasing, taming and hair spray you can attempt this one at your own home too.Suitable pairing: Western style long gownsOccasion: Engagement or receptionAge group: best suited for younger brigade

#10 Middle-parted bridal juda hairstyles with a puff – Juda with gajra
Middle parting in juda is pretty rare but actually looked very different and fun. Here the hair is parted from center to help the mang tika sit perfectly while volume is created both on the sides and in the front for a puff to make a bun at back. This hairstyle is finished off with gajra giving a very traditionally Indian vibe. Suitable pairing: Lehengas and unjabi suitsOccasion: Wedding functionAge group: best for women in 20's or early 30's
#11 Sleek braided base bun updo with puff
This is classic Indian juda hairstyle which works for a glam reception night. If you have thick hair this hairstyle should be easy to do. This juda hairstyle design has side parted hair in front and crown style braid after which hair puffed to give it volume and tied in a low bun. The crown braid makes this fancy enough to eliminate any kind of ornaments and flowers.
#12 Layered juda hairstyles with pouf
This is a very unique way to style your juda especially the flower placement sets this bun hairstyle apart. This juda hairstyle goes well for the wedding day for the bride or someone close like brides sister or brides best friend.
#13 Chic high puff juda hairstyles
A simplistic do it yourself juda hairstyle is what you want? This front puff style is just that stylized with a hidden tika and some flowers to add to the allure. How to do this juda hairstyle step by step? Well first set the tika by middle parting hair and then begin teasing your front hair by back combing it. Create volume for the puff pin it and finish off with a simple low bun. Add flowers if you are feeling all jazzy.

Juda hairstyles for saree
#14 Double string jasmine flower bun for traditional saree look
This jasmine string juda is for the super traditional desi gal with medium to long length hair. This style of juda is pretty easy to do even at home with a bit of practice and you can add simple juda pins for added jazz. Make sure to use tightly packed mogra strings for best results.
#15 Side twisted low bun hairstyle for saree with roses
If you are not going for a too traditional kind of a Indian party look then skip mallige in favour of the sophisticated roses. You can uses roses of any size and colour and it is sure to gives you a more modern appeal. Go for a simple low side parted bun and pin in roses on the side . This bun works best for reception party and will work nicely even for brides.
#16 Best juda hairstyle for saree with side bands and juda pin
This bridal juda is an Indian as it an get. If you have thick and longer hair braid and then twist into a bun and top off with mogra flowers. Flick out hair into curls in the front for a more youthful appeal. This is kind of a bun which requires skill and will take time to make so be warned in advance.

#17 Elegant smooth juda hairstyle for medium hair with dual tone flowers
One coloured flowers in hair are a passe. these days you an go crazy on the colours and dual tone works amazingly especially if you are wearing a slightly dull or pastel coloured outfit. Here white and yellow come together to give you the uber ethnic haldi style look which will work nicely for festivals too.

#18 Bejeweled floral juda bun for silk sarees
This is a unique traditional yet stylish looking bridal bun hairstyle which works best with pattu sarees. Using dual tones for flowers and some jewellery additions this bun is as complex as it an get and is strictly for expert hands. You can show the photo to your parlour aunty to get a similar look.
#19 Twisted side juda hairstyle with flicked out hair – Best juda Hairstyle for saree
Go for a beautiful side twisted and flicked out bangs bun with a single fresh rose for a fresh and natural appeal. With kohl lined eyes and traditional jewellery this is the perfect juda hairstyle for minimal brides.
#20 Twisted pouf juda styles for thick hair
For all your designer sarees this kind of a pouf side twisted bun with red roses will work amazingly. Use a volumnizer to create volume if you dont have thick hair and set it up nicely with a setting spray so your bun stays intact all night long. With roses in hair keep the jewellery light aka skip the necklace and tada you are set to rule the party.
#21 Stunning Multi chains juda clip studded Hair bun
An out and out bridal hairstyle for south Indian brides. You can try this for the wedding occasion or even the sangeet function if you plan to wear a silk saree. There is a mix of flowers and jewellery here in the bun which gives it the gorgeous royal feel.
#22 Fabulous pearl studded juda with flower crown
If you have real thick long tresses then it is best to take advantage of it and weave in rose chignons with beads muddled in, You can add more fresh or fake flowers for a fancier output. This kind of a juda style works for a wedding reception event.
New hairstyles – Juda hairstyle designs for special occasions
#23 Striking Mogra Bun for traditional look
Jasmine flowers play a vital role in Indian marriages and this floral juda has an overload of jasmine flowers not just wrapped around the bun but also left loose as strings on both sides. For breezy, fun morning functions like mehndi or haldi you can try this jasmine juda style.

#24 Simple low juda for minimal look
The simplicity of this juda hairstyle is sure to win you over if your style is more subtle and minimal. If you are blessed with silky good hair this bun should be a breeze and add some flowers of your choice on one side and you are good to go.

#25 Elegant sectioned jasmine flower bun with juda clip
If mogra is juda is what you desire you can still add a more hatke by going for triple layers around the bun instead of one. Infact this juda hairstyle photo above has four layers which gives a heavy look with an old world charm to it. This style doesnt really require professional help provided you can make a simple juda and set the layers on your own .
#26 Sloppy side juda style for younger brigade
This messy style side juda with tiny flowers will make people skip a beat. This style isnt restricted to brides as it is not too grand nor too simple. Bride's sister can also give this style a try. If you ask me, then I would label this off as the perfect Indian engagement hairstyle for fresh appeal.
#27 Hassle free juda hairstyle for mature women
One of those crisp, clean and subtle juda styles for intimate weddings which are super in trend these days all thanks to the lockdown and pandemic. This will also work for older women who want more conventional hairstyles.
Juda hairstyles for parties
#28 Glam top knot juda hairstyle for sangeet parties
Jazz up with high bun like this for an edgy and confident vibe which works nicely for millennials. This modern party hairstyle is quiet complicated and will require proffesional to perfecct but the end result is going to pure awesomeness. To steal the show on your sangeet party pick this style without doubt.

#29 Middle parted twisted low bun for wedding party
Simple get together or festive event where you want to go traditonal? Then this bun is ideal for you Middle part your hair twist them on both sides and pin it all together at the back . Finish off with mallige flowers which is perfect to be flaunted with saris and Ethnic gowns.
#30 Gorgeous Sectioned India juda puff for Reception party
Messier buns are the newest trend surfacing and they are perfect for a soft chic appeal. This bun at the back with roses has face framed with front curls making you the star of the party. The best thing about this puffed juda hairstyle is that it can seamlessly blend and work for any kind of an outfit, Indian, western or even Indo-western.

#31 Mesmerizing voluminous low bun with lots of curls
This kind of low buns with front face framing curls are a huge hit with women for the very feminine and elegant vibe to your wedding looks. This is a sangeet ready look which brides can team with any outfit, be it lehenga, gown or even a designer saree.

#32 Big blooming juda bun – Anushka style juda hair
This kind of full roses bun has become quiet a favourite with brides this season and if you are having a summer wedding then going for multicolored flowers is definitely recommended. But make sure the flower colours dont clash with your outfit. this kind of a bun will work nicely on medium build or heavier women as it can weight down slim looking girls.
#33 Wavy puffy bun with sectioned twists Best reception hairstyle
This is an extravagant juda hairstyle giving you a regal vibe fit for a princessy dreamy look. I love how layered the twists are in this juda hairstyle and the soft hair flicked out in front will perfectly frame round faces. This could be the best hair idea for reception party especially if you are a bride wearing a western style outfit. Even Indo western outfits will look gorgeous paired with this hairstyle.
#34 Unique braided bun for contemporary brides
This is the classiest juda style in this this list and if you are looking for something really unique and sophisticated then try this hairstyle. Waterfall style braiding comes together in a braided low bun finished off with floral clip. This is a stylish wedding bun hairstyle for engagement or reception and works nicely if you naturally silky long hair.
#35 Beautiful messy low bun with flowers
A quick messy low bun will cut it for most occasions when you are not the bride. To add a touch of glam you can add some fresh flowers or even jewelled clips and some curls in front. This is ideal for a friend of the bride look to flaunt the reception party with an anarkali gown or lehenga.
#36 Quick and easy side twisted bun
A simple side messy bun is all you need most of the times especially if you are a wedding guest. Side part your hair and add volume using a spray or back combing and secure hair into a messy bun a little low. Flick out hair in front for a more soft appeal and set it all up with a setting spray so you dont have to worry about loose strands all through the night. You can add hair accessories to further jazz up this bun but if you are pairing with bold makeup then it is best to leave it as is.
#37 Indian juda hairstyle with jhumka hair accessories
Jewelled buns are jazzy and add the necessary bling required for a wedding ready look.. Opt for a middle parted front with a simple bun at back and then decorate it off with bun chains of your choice. This look is best suited for south Indian brides especially if you want a break from flowers.
#38 Side braided bun for engagement party
We cant get over this half braided bun with bangs as it is so striking and delicate. If you plan to wear a fusion or Indo western outfit then opt for hairstyles minus the flowers like this one. Make sure your makeup matches the vibe of this artistic bun. Go bold and go classy with smokey eyes, subtle lips and sparkly jewels.
Bridal Juda hairstyles
#39 High twisted bun with roses
High buns give a sophisticated glam look which assures your hair will pop out in a crowd . Add roses at the base for a touch of difference and you have a wedding reception bun ready which is all things gorgeous.

#40 Bridal bun with gajra net for south Indian weddings
This kind of fancy gajra hairstyles with netted mogra is hugely popular in South India. if you want a similar style then make sure to talk to your parlour girl beforehand and confirm she has attempted this style before. Juda hairstyles like this are perfect for weddings and blend seamlessly with pattu sarees. This style is also popular for young girl's coming of age ceremony.

#41 Stylish Pouf bun with matha patti
If you want to skip flowers then add a matha patti to your juda and give it a sassy vibe. The possibilities are endless here, just go for a more poufy bun and add any accessory of your choice, even tika works well. The latest half matha pattis will surely make all heads turn over to you.
#42 Big floral lusted bridal juda for recption
If you want to add fresh flowers into you juda then you have lots of options to choose from. Roses and jasmine flowers are pretty common but you can give tulips also a try for a more fusion kind of unique effect. This is a trendy style where a simple bun is made and fully covered with flowers for a stylish and unusually charming appeal.

#43 Golden glam – Bridal bun with jhumka style hair accessories and golden florals
This is the most unique and amazing juda design on this list and if you are looking to make a mark and steal the show this should surely be your pick. The accessories play an important role in setting this hair bun apart but if can DIY these with little jhumkis and chain soured from your local supplies store you have a winner on hand. Perfect for wedding and will work for an extravagant sangeet too.

#44 Pop of colours – Rose covered bun hairstyle
With net dupattas ruling the roost this wedding season all of hair is on display even if you are a head covering bride. It makes sense then to opt for something wow-worthy under your see through veil and this fully rose covered bun should definitely be your pick. This is one of those trending celebrity wedding hairstyle which gained popularity after Anushka Sharma tried something similar at her wedding.
45. With real flowers in the bridal bun:
Image Source – Ravneet Puri Photography
Image Source – Feather Tree by Avira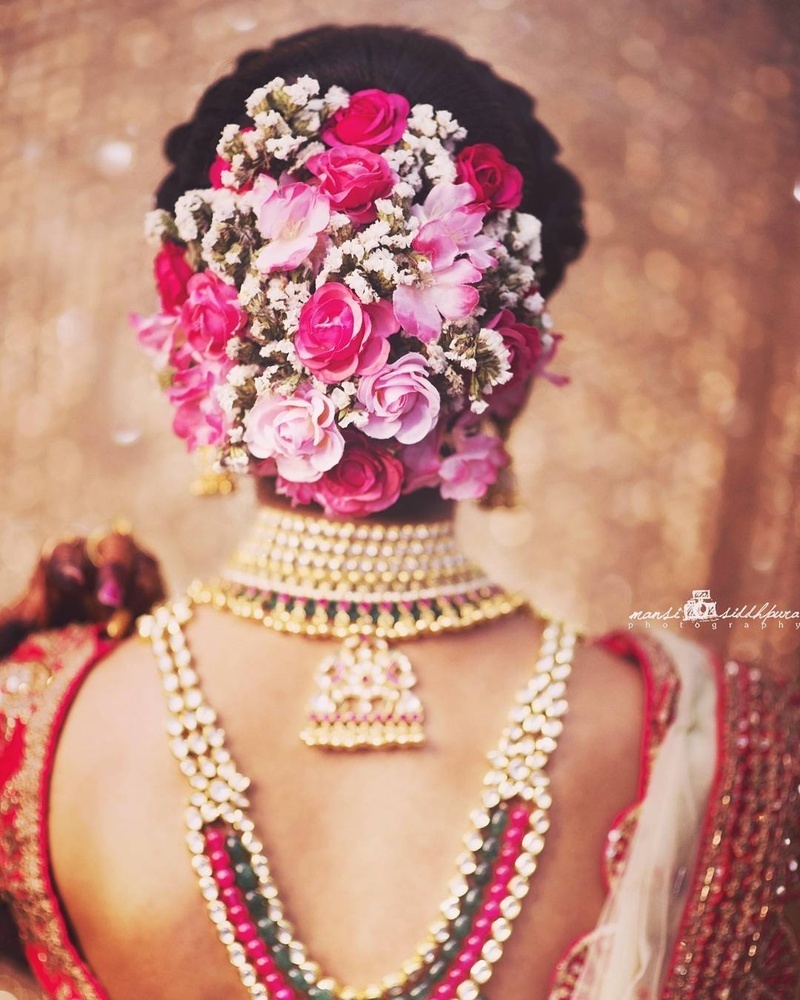 A bun is all you need to look ethereal. This is one stunning bridal hairstyle for short hair too. If you have short hair, just add on some extensions, some real flowers, pin up a sheer dupatta on it and slay your wedding day!
46. Open hair with a top soft lock:
Image Source – Royal Frames
There's nothing better than to show off your long locks then to let them cascade down your shoulder. Tie them half up to make them stay in place and add some dainty flowers to give your wedding hairstyle a more appealing look.
47. Messy voluminous princess braid with ringlets:
Image Source – Kajol R Paswan
Image Source – Pooja Joseph Photography
So you want to go full dramatic on your wedding day, huh? Well, then there is no indian bridal hairstyle than a messy voluminous braid. This stunning marriage hairstyle will give volume to your hair and accentuates your bridal look.
48. The crimped effect:
Image Source – Weddingnama
Add some drama to your normal open hair like Nishka Lulla here and get a hairdo as gorgeous as this. Get creative with your crimper and give your long locks some dramatic curls like these and turn heads at your wedding or pre wedding ceremony.
49. Mermaid braid:
Image Source – Ramaniya Gilterati
If you want to dance the night away without having to bother about your hair getting in the way, just sweep it into a graceful mermaid braid like this. You can bling it up with some accessories such as these hair beads and dainty flowers.
50. With a statement floral tiara: