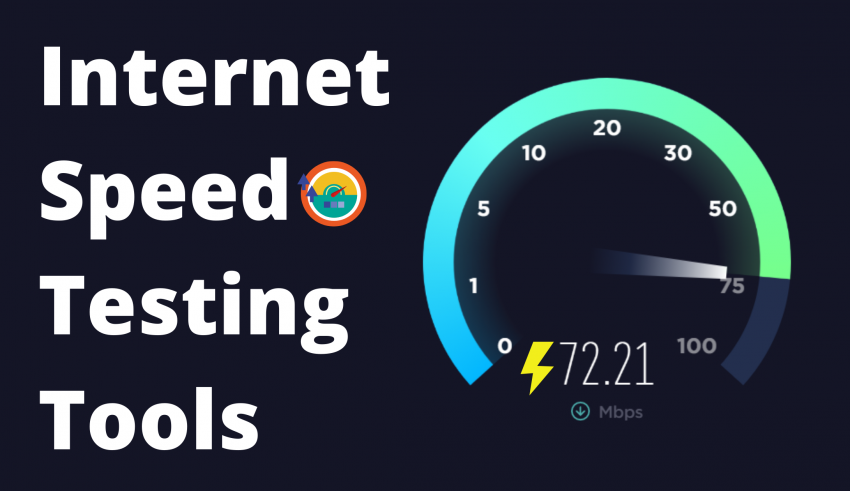 Internet is your most trusty friend. Maybe it is not a great idea to be so dependent on any service but this is what the world has to come to and we must keep up. We are all on the quest for a network provider that provides us with the fastest internet service at the lowest possible rates.
Best tools to test your internet speed: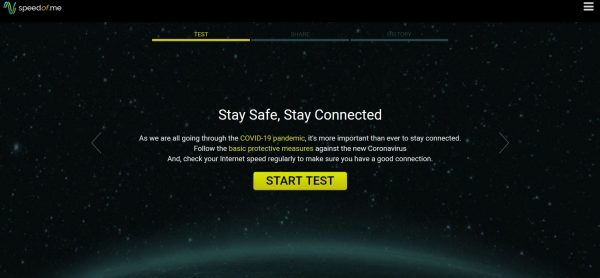 This broadband speed testing tool helps you to assess your internet speed unlike any other tool out there. The tool is available on every device imaginable. Whether it is your desktop, mobile, gaming console, or smart tv – Speedof.me is available to judge and ascertain your internet speed.
The tool first works out your download speed and then goes on to upload the same file so that you gain an in-depth analysis of how your connection functions. The latency is calculated and presented to you at the end of the result.
With Speedof.me you can not only learn the total speed of your internet in real-time but you can also understand how consistent it is. Moreover, they have a separate column named "History" wherein you can keep track of all your speed test results. The cool neon graphics and dark mode deserve a special mention. Color us impressed.
---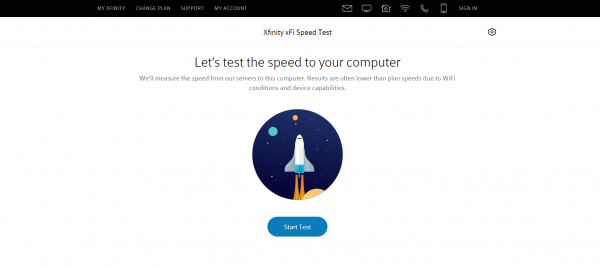 Looking for a no-nonsense, non-distracting internet test speed tool? Head over to Xfinity xFi Speed Test. Much like Speedof.me, Xfinity too provides you with a download and upload speed. The analysis is fairly accurate and the results are generated in a jiffy. What we like about the tool is while the test is straight-forward and concise, they still have much knowledge to spread in case you're interested.
The FAQ section of the website explains how the same internet plan ends up providing different speeds to different devices. Xfinity analyses the speed of your individual device rather than your broadband connection speed.
We love how they are transparent about their operations and dedicates a whole section to educate users on how they function. And it can come awfully handy to know how each of your devices actually adapts to your internet plan. Xfinity xFi Speed Test is a big yes from our side.
---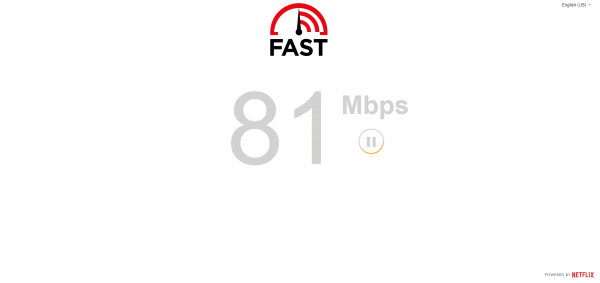 Simplicity is the key and Fast.com understands that better than any other internet speed testing tool out there. Keeping perfect harmony with their name, Fast.com is quick as lightning. It's so effortless that you wouldn't even have to lift a finger to press the "start" button. Once you click your way onto the website, Fast.com immediately springs into action and starts calculating your total speed.
At the end of the computation, your speed results are showcased in Kbps or Mbps and that's enough to satisfy most users. But do you want more features? Don't worry, Fast.com provides much more than meets the eye. From the "more" tab you can learn of your load speeds and latency. What's more – you can actually change the configurations from the settings panel.
You may set up multiple parallel connections and even decide on the duration of the test. When all settings have been set according to your desire, you may save the configurations to the device so that you can always come back to the same settings. And no, you don't even need an account for this.
Also, did we mention that Fast.com is powered by Netflix? And our years of experience with Netflix have taught us that the organization can do wrong – Fast.com is another testament to that.
---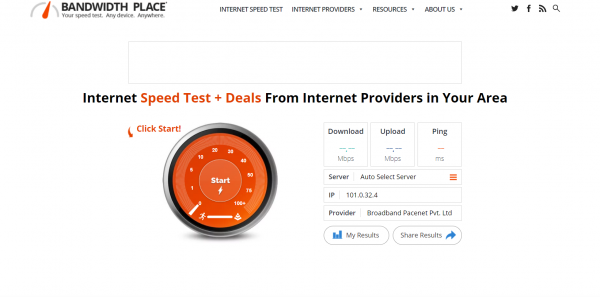 The internet is a funny place. Everything exists online and we netizens are spoilt for choice. Like every other service available online, there are a plethora of internet speed testing sites. So, how do you know which tool you should trust to give you accurate results? Why of course you should go for the tool that has been around for the longest time.
Bandwidth Place has been around 15 long years and they are still one of the most widely used tools when it comes to internet speed testing. All it takes is one click to start the speed analysis and within a minute you will be provided with your download speed, upload speed and ping speed.
Don't understand how these factors determine your internet connection's speed? Don't worry, Bandwidth Place describes every feature available in a straightforward manner on their page.
There are some useful blogs you may check out while you're at it too. But wait, Bandwidth Place has another exemplary feature up its sleeve. If you find your service provider lacking in some field, you can utilize the tool to discover the best internet service provider in your state.
Unfortunately, this service only works for US citizens so that's kind of a bummer. But we are certain Bandwidth Place is slowly and steadily on their way to include every other country.
---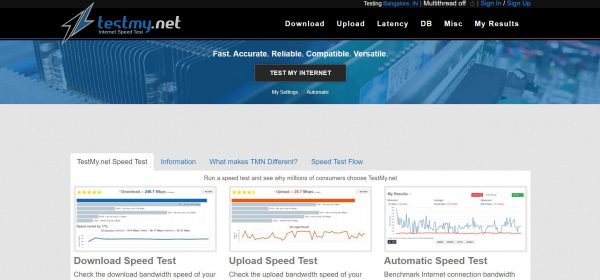 The website looks so complicated at a glance that it has the ability to immediately put off users. But we promise you that TestMy.Net has only messed up when it comes to page designing – their services are top-notch. The tool understands that users have diverse needs and so they have created three separate tests to best serve their audience.
With TestMy.Net you can calculate your download speed, your upload speed, and your automatic speed test. The test results are never diluted or inflated to favor any service provider, so you can rest assured that your results are going to be very accurate. The site claims that many internet speed testers are known to tweak their results to suit their vested interests but TestMy.Net is all about clarity.
They take everything into consideration and display all the aspects that went into the calculation of your final result – even the "test in progress" data. The site runs on HTML5, is PHP driven, and works without any reliance on third-party applications.
So no flash, no java, and no plug-ins – not even on the mobile version. TestMy.Net sheer authenticity and reliability makes it one of our favorite speed tester.
---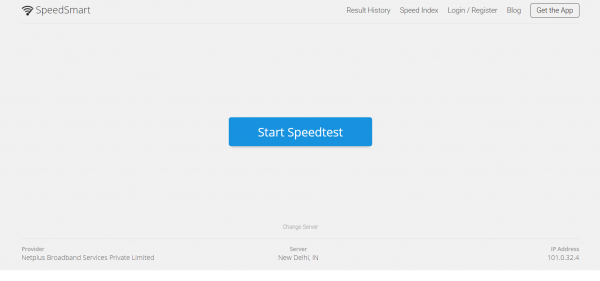 Keeping in tune with their name, SpeedSmart is all about simplicity and smartness. Even their website design gives off a clean, minimalistic vibe which we can't help but dig. But let's move on to more important things. Much like TestMy.Net, SpeedSmart too runs on HTML5 so they don't function with the help of plug-ins which is always a welcome attribute.
SpeedSmart works with a real-world testing method and uses larger data sizes to ascertain the accuracy level of your internet speed. Gamers or users who require a low-latency connection will probably grow a fiercer liking towards this product for the site not only calculates the download and upload speed but also the ping information.
If you are in search of an internet speed test server that you can personalize, we recommend you choose this. Here you can create and log in to your own account to keep track of your test histories and you may also download and use their app.
---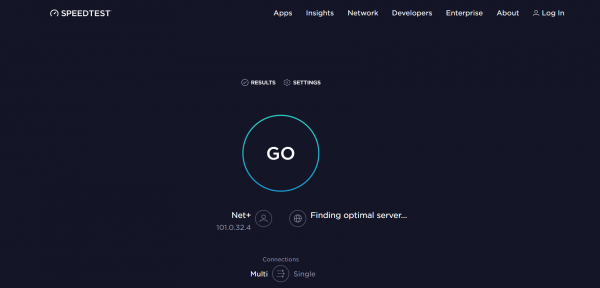 Owned and operated by Ookla, Speedtest.Net has been in the business for eons now. And despite stiff competition from its younger counterparts, the speed testing server has held its own. Their results are as accurate as it gets and the site also consists of various servers which you may select and use as per your convenience.
In fact, they even suggest nearby servers that are closer to you in the distance in case you want to switch to a different service provider. The site also has a section that preserves the details of your test results, so that you can keep track and understand the trends and patterns of your connectivity. This feature comes especially handy for professionals.
The webpage also has a special insight column which offers you a peek into the analyses and network performances around the globe. Speedtest.Net does the job like any other on this list and even includes diversity within its features. The only flaw? Too many ads spoil the essence of the tool. So if you're someone who gets annoyed or distracted by ads, maybe it's not such a great idea to go for this.
---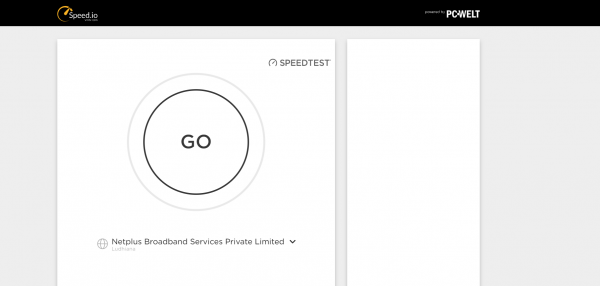 If you are curious about your speed and simply want to attempt a test run to ascertain your internet speed without the results being too complicated to comprehend, Speed.io is the one for you.
The tool measures your real-time internet speed in relation to the closest server to you and provides download, upload, ping, and connection speed results. Whether it is cable, fiber, or ISDN and 3G, GPRS, EDGE, 4G, Speed.io have the ability to assess your network speed. In our humble opinion, this tool will suit you just fine if you want a fast and efficient speed tester.
---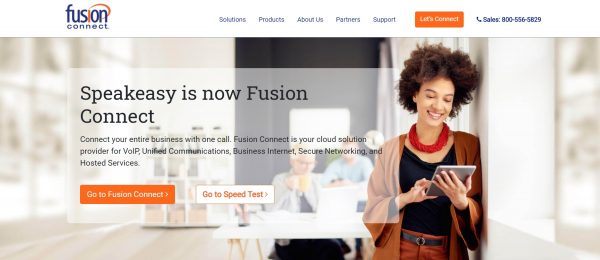 Probably the best speed testing server for businesses, Fusion Connect's Speakeasy.net educates you on why it is so important to have a fair idea of your internet speed and also informs you of the various terminologies of the internet world.
Not only do the test results give you an estimate of your real-time download and upload results much like any other internet speed testing tool out there, but also informs you of how much speed you should potentially have.
The webpage has a separate section dedicated to various internet speeds and a brief on the efficiency of online activities in relation to the speed. Based on this outline you can decide if it's time for you to search for a new network provider. We heartily recommend Speakeasy.net for those who want to make a sound judgment based on their results.
---
FAQ:
Q.1. What is the best way to test my internet speed?
To determine the internet speed of a particular device at any given time, just go to speedtest.net on your computer (with your normal home networking setup) or download and run the Speednet app on iOS or Android.
Q.2. What is a good Internet speed 2020?
A download speed of 12 to 25 Mbps is best for two or three internet users who want to stream video or play online games. A speed of 25 Mbps and higher supports four-plus people who surf, play games, stream video and more all at the same time.
Q.3. Why Speedtest is not accurate?
Speedtest measures the speed between your device and a test server, using your device's internet connection. Some devices may not be able to measure the full speed of your internet service. It's also possible that your Wi-Fi router doesn't support the full speed of your service.
Q.4. What is my true Internet speed?
Finding your true internet speed is pretty simple. Just perform a speed test. All you need to do is visit a site such as www.SpeedTest.net and click Begin Test. The test will only take a couple of minutes to complete.